Introducing the TORR X – the ultimate large parasol for residential and commercial settings!
Transform your outdoor space with the revolutionary TORR X Parasol! This commercial-grade parasol from TORR Umbrellas is sure to make a statement! Experience a new level of durability and design with the TORR X; perfect for your patio, deck, or hospitality establishment. It's not a regular umbrella, it's luxury for your outdoor area.
Features that set this large parasol apart from others:
Expert craftsmanship – perfect detailing from tiny parts to intricate moulds and extrusions for unmatched performance.
Customise your shade – pick from 3m to 9m, with bespoke options, too.
Built for strength and durability – made with marine-grade materials that are replaceable and sturdy.
Easy to use – gear-opening system makes it a cinch to open or close.
Harmonises with furniture – telescopic systems glide over furniture with ease.
Windproof – triple-interlocking aluminium design can withstand strong gusts of wind.
Low maintenance – swift and painless replacement for any damaged part.
Accessorise away – LED lights, heaters, rain gutters, glass sides and waterproof protective covers all available.
3-year warranty on both the canopy and frame – trust in TORR Umbrellas!
Customise your shade – pick from 3.0m to 9.0m, with bespoke options, too.
3.0 x 4.0m
3.5 x 4.5m
4.0 x 5.0m
Experience luxury outdoor living with the TORR X. Get ready for the best shade you could ever ask for!
Get ready to take your outdoor living space to the next level with TORR X – the luxurious large parasol from TORR Umbrellas! Ideal for residential and commercial spaces. Crafted with the finest marine-grade materials, this outdoor lounging shade umbrella is exceptionally strong and resilient against diverse elements of nature.
This all-weather parasol offers a timeless, sophisticated look and fits perfectly into outdoor settings. It stands up well to the elements, such as coastal and seaside locations and elevated landscapes, making it ideal for luxury hospitality businesses and private areas. With this large patio parasol, outdoor spaces can now reach their full potential.
Enhance your outdoor experience with the TORR X, where maximum protection meets effortless design. Make a statement in your outdoor space by treating your customers with this unbeatable combination – a true outdoor masterpiece.
Looking for an extra-large umbrella? Then check out the TORR XL parasol.
Our canopies are hand stitched by UK-based sail makers using Recasens RECacril®, which  is a premium quality solution-dyed acrylic fabric that offers more than 40 colour options and a three-year colorfastness guarantee.
TORR parasols use a revolutionary canopy system, using individual triangular sections which slide and lock into the profile of the rib.


Stronger than other large conventional canopies
Superior waterproof properties
Less likely to stretch or strain the material and sewn seams
Sections can be easily changed without the need to replace the entire canopy, saving money and time
Last longer than other canopies
The arms/ribs have a unique, triple inter-locking aluminium profile design for unrivalled strength, making them almost indestructible.
All moving and pivoting joints are made from stainless steel plates set into marine grade PA66 nylon for less wear and ultimate strength.
All fastenings are marine grade stainless steel, opposed to competitors parasols which are metal on metal which wear and loosen over time.
Custom aluminium 6063 profiles have been designed by Torr's engineers to ensure a lightweight and robust solution for both our commercial and high-end residential customers.
A 3-year guarantee is offered as standard on all of our powder-coated frames. For large commercial projects, we are able to offer a custom powder coating service.
LED lighting fits seamlessly into the extrusion of the arms for a neater design
Dimmable options
Suitable for commercial or residential use
Internal wiring incorporated within the mast for the infrared heaters
Adjustable height for the heaters to suit every installation
Integrated push-for-heat button and closing with auto cut-off for the heater system
We offer two hat options; a cone hat which follows the angle of the canopy, or a more rounded form of our parabolic version.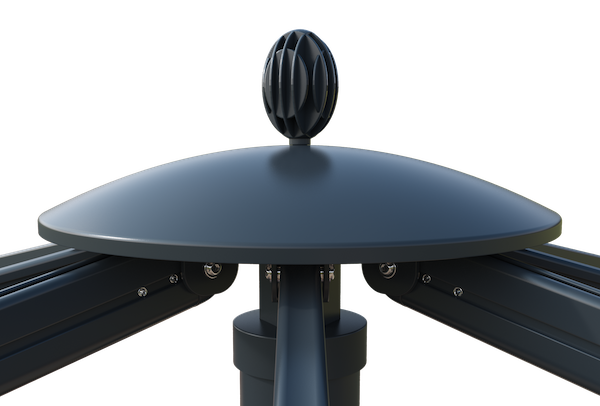 Users can unfurl and close the large commercial parasol by way of a hand crank or with a cordless drill.
We offer a range of base designs and options that ensure maximum stability, even during severe weather. 
Get in touch to discuss your requirements
and for a quotation